Full Mouth Rehab

Patient Guide: Education Is Important
Full Mouth Rehabilitation:
Full mouth rehabilitation has changed the smile and confidence of so many of our patients which involves correction of every tooth in both jaws.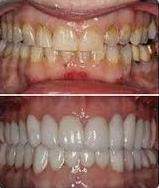 Full mouth restoration is a good option for people whose teeth are excessively worn down, damaged, missing or for people who have problems with their Temporo-Mandibular Joint (jaw joint). Worn or damaged teeth are more than just unattractive; they can cause difficulty in chewing, poor nutrition, gastrointestinal upset; Temporo-Mandibular Joint (TMJ) problems, headaches, pain and facial collapse.
Treatment includes combination of multiple treatments like crowns and bridges, implants, various fillings and endodontic procedures etc.
Treatment is done in four to six visits and special instruments like semi adjustable articulators and face bow are used for proper bite correction.